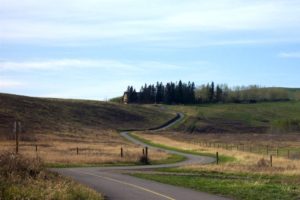 As a resident of the GlenEagles community, you realize how fortunate we are to be living in one of the most beautiful communities in Western Canada. From the glorious mountain vistas, the serenity of the foothills, to the beauty of our parks, playgrounds and pathways. We have it all!
What you may not realize, is that the maintenance of all of our green spaces, islands, and boulevards is not carried out by the Town of Cochrane, but by a contract administered by the GlenEagles Community Association. (GECA previously looked after all four parks as well; this responsibility has been assumed by the Town of Cochrane effective April 1st, 2017.) If you look around, you will see this is not your usual municipal landscaping, but most certainly several steps above average. We take pride in this and in doing so; we incur an additional cost. You should know that this cost is shared equally by all the residents of GlenEagles. There is an encumbrance in place on every land title in the subdivision, allowing the collection of an annual fee to be used by the GlenEagles Community Association in the beautification of our community. Most citizens routinely and happily pay this fee, realizing the value of their investment, and recognizing that the cost has not gone up in more than a decade. Over the last several years, the list of delinquent accounts has remained steady, and in fairness to all residents of our community, we would ask that anyone who currently has an outstanding balance to make their payment to
Gleneagles Community Association,
P.O. Box 1349, Cochrane,
Alberta T4C 1B3
as soon as possible. If you don't know if your account is up to date, contact Shelley at [email protected].
You should remember, this allocation is not optional, and we do have legal avenue to secure payment, but do not wish to undertake such means if at all possible. Our accountant routinely prepares a statement for all outstanding accounts, and these are mailed over the course of the calendar year as required. Trusting you will help us continue to maintain our beautiful community.
If you have any questions, contact the President.
Community fees: Who? What? Why?
Why do I pay a community fee? You pay an annual fee to the GlenEagles Community Association because when GlenEagles was developed Ecco Development wanted a community with an above average amount of green space. The town agreed to the additional green space if the community agreed to take responsibility for maintaining it. It is the primary responsibility of the GlenEagles Community Association to maintain this additional green space.
I didn't sign up to be a member of the association, why do I have to pay? To ensure the care of our additional green space, each resident of GlenEagles is required to pay the annual fee. Liens are placed against all properties in GlenEagles to ensure payment of these fees. This is NOT a voluntary fee.
I pay condo fees, why am I double billed? There are five condominium associations in GlenEagles: The Villas, GlenHaven, The Estates, The Vistas and The Summit. The amount of condo fees paid by each group varies significantly as do the services they maintain. The fees you pay to the GlenEagles Community Association are separate. They are used to maintain common areas. Most funds are rebated to the condo associations for further landscaping/beautification within the condo areas to make the approach equitable.
Where does the money go? Irrigation system upkeep, entrance and boulevard development and maintenance, snow clearing on internal paths, weed control, pest control, garbage pickup (in parks and along interior paths) trees and flowers, mulch, pruning, water, administrative expenses and so on.
What if I don't pay? Please note: Once overdue accounts are forwarded to our legal counsel, legal fees will be added to your account. If you are unable to pay your fees on time, please contact Shelley at [email protected] to make other arrangements. We are happy to assist any resident who contacts us.